James E. Donahue, Esq.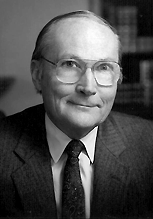 Mr. James Donahue is a well-known and respected attorney in Northern California, and, specifically, the Sacramento area. James has specialized in trial work since 1962. He has successfully tried over 200 jury trials, and handled hundreds of arbitrations and mediations.
Upon graduation from college, James served with the U.S. Army Counter-Intelligence Corp in Japan. After a period of time working with the California State Automobile Association in the claims and legal departments, James joined the Douglas McDonald Law Firm in Sacramento in 1964. He later formed the litigation firm of McDonald & Donahue.
In 1975, James was the founding partner of the firm Donahue & Callaham, which has today become Donahue, Bates, Blakemore & Mackey.
He has represented both plaintiffs and defendants in cases involving medical, dental and legal malpractice, insurance coverage and bad faith claims, civil rights, products liability, employment litigation, automobile accidents, construction defect, and elder abuse law matters.
Since 2000, James has acted as Arbitrator, Mediator, and Judge Pro Tem in Sacramento, Placer, Solano and El Dorado County Courts.