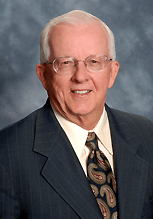 With more than 40 years representing injured railroad workers, Mr. Jack Sevey is one of the most effective FELA attorneys in the country. He has tried more than 100 cases and has handled more than 2,000 cases for plaintiffs. He also has had some of the largest verdicts in history during his long and distinguished career.
Jack was born in Sacramento, California. After his father, a United States Marine, was killed in World War II, Jack and his mother lived with his grandparents where his grandfather was a locomotive engineer for the Southern Pacific Transportation Company. In order to attend college, Jack received a scholarship from the Second Marine Division – the very first scholarship awarded to a child of a deceased Marine killed in World War II. He also received one of the first scholarships awarded by The Eagles Foundation.
When Jack took the California State Bar, he finished the bar on a Thursday and went to work the following Monday for the law firm of O'Connor and Lewis. This firm represented the Switchmen's Union of North America. This was the start of Jack's career representing injured railroad employees. "I have only represented injured plaintiffs and find it very rewarding when you receive a great result for your client," said Jack.
In 1995, Jack was chosen to be a Fellow of the American College of Trial Lawyers, an honor awarded to only one percent of attorneys in each state. To be chosen, a lawyer must be voted in at the local, state and finally the national level.
In recognition of his excellence in the law, Jack was asked to become a settlement conference pro tem judge for the Sacramento County Superior Court in 1992, and continues to serve in this capacity today.
Licenses
State of California U.S. District Court Eastern District of California 1965
U.S. District Court Northern District of California 1965
U.S. District Court Southern District of California 1965
U.S. Court of Appeals 6th Circuit 1965
Professional Organizations
American College of Trial Lawyers 1995
American Board of Trial Advocates 1976
Academy of Rail Labor Attorneys
Sacramento County Superior Court Pro Tem Judge
Capitol City Trial Lawyers Association 1966
California Consumer Attorneys 1966
Honors & Awards
Fellow, American College of Trial Lawyers
Trial Advocate of the Year, Sacramento Consumer Attorneys 1995
American Board of Trial Advocates, President, Sacramento, 1992
American Board of Trial Advocates, Masters in Trial Program
Top 100 Lawyers, Lawyer Publications
Martindale-Hubbell Rating: AV